Last updated May 18, 2017
The Happy Berry
Harvest Forecast
Blackberries - June 1
Blueberries - June 15
Seedless grapes - July 20
Figs - August 1
Muscadines and Scuppernongs - August 15
Persimmons - September 15

Strawberries -- Still In Season
We don't have Strawberries But Friends Do-
Generally speaking, most the strawberry growers still have harvest, and we are guessing will have until about June 10.

Willows & Woody Florals
Bundles, Cuttings & Starter Plants
Available at the markets - See schedule to the right.
Also available by appointment.


Strawberries -- Still Picking!
We don't have strawberries but we have friends that do!
Generally speaking, strawberries are still in, and we are guessing will probably have harvest until about June 10. We don't have a current list of strawberry growers, but the list below are the ones we heard about at the beginning of strawberry season.

Hunter farms near Dacusville. The Berry Patch near Anderson. Beechwood farms in Marietta (under new family management). Fred and Sara Lynn north of Greenville. Callahan's orchard near Piedmont.
FUTURE FORECAST:
Blackberries - estimated June 1
Blueberries - estimated June 15
Our forecast for blackberries is June 1 and blueberries is June 15. It is our understanding that Georgia blueberries were hit very hard by the freeze discussed above and thus late May early June supplies may be limited. Florida blueberries, especially below I-4 are okay but they generally stop picking about late May. Further we understand that coastal SC blueberries have been severely damaged. North Carolina has been very quiet and there situation is unknown at this time. As time goes on We will give you an update.
See our April 1 newsletter for the detailed crop report.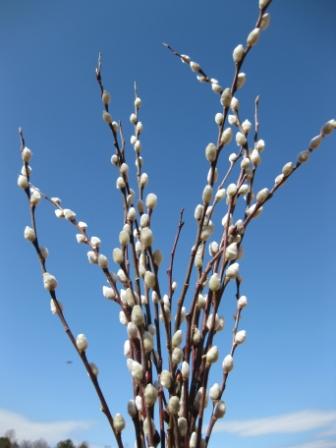 We still have decorative branches and stems!
We still have bundles, cuttings and potted starter plants available. We will have them, along with eggs and jams, at the markets (see schedule to the right). We are also always available by appointment. Call Walker 864-350-9345.
Earlier this year a friend shared a blog on willows that we found very interesting http://deborahsilver.com/blog/cut-branches-for-winter-pots. It is worth the visit for winter decorative ideas.
Eggs, Jams & NEW THIS YEAR
Frozen Blue- and Blackberries
We still have eggs and jams for sale on the porch. We have added this year frozen blueberries and blackberries in a small freezer on the porch. If you like this we could expand the volume for the winter of 2017. The prices are on the bags in the freezer. Purchases are on the honor system if we are not there.