Last updated April 18, 2021

January 30, 1945 – February 22, 2021
"Momma Ann" lost her battle with cummalative health problems on February 22, 2021.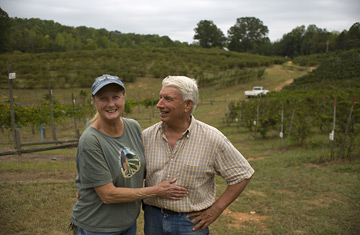 She was a driving force and passionate partner in the running of the Happy Berry. She was proud of the farm and what they had built for the community, and she especially loved her "Market Family" - vendors and customers - at the local Farmers Markets that she worked until she no longer had the stamina.


A Celebration of Life is scheduled for Sunday, May 2, 2021 with drop-ins invited from 2:00 pm until 4:00 pm at the farm.

Winter/Spring Hours
This time of year we are mostly on the honor system, and any staff on hand are typically working out in the fields, pruning and prepping for the harvest season.
9am to Dusk Monday - Friday
9am - 6pm Saturdays
Noon to Dusk - Sundays
Willows & Woody Florals
We have lots of sticks and stems for dried arrangements, grow-your-own as well as some just started plants and others that are well rooted. We have Sir Harry Lauder Walking Sticks too. And as always, we also have eggs and some jams available.
Best to call ahead this time of year, as Walker is recovering from surgery, and to make sure someone will be available to help you when you come to the farm.
Sorry - No Strawberries
We do not grow strawberries, but we have friends that do.
Local strawberries typically start around April 15.
We are trying to get a current list of growers for 2021.
Harvest Forecast
Blackberries - June 1
Mulberries - June 1
Blueberries - June 15
Seedless table grapes - July 1
Figs - August 1
Seedless Muscadines - early August
Regular Muscadine (Bullis & Scuppernongs) - mid August
Persimmons - mid September
COVID-19
We continue to ask anyone coming to the farm wear a mask while in the vicinty of the porch, to social distance, and to honor all current COVID protocols.
Please read our safety procedures, before you come to the farm. We describe what we will be doing and what we ask that you will also do.
Part-Time Jobs
Want to learn how to prune? Volunteer positions are open, and we will be hiring for summer in the next couple of months.

Do you have a passion for Birds or Bees?
Two new volunteer positions posted. We are looking for a Bird Manager and a Bee Manager. See the postings for more details.

Talk to Walker! 864-350-9345